Today businesses rely on online transactions to buy and sell their goods and services. The benefits of online transactions are: it is easy, fast, and secure. The best part of online transactions is it is contactless, so you can improve operational efficiency and enhance sales. 
Online transactions can be done using payment gateways where you need to create an account and provide credit card or debit card information using which you can shop, make safer payments, and transfer funds. Payment gateways like PayPal and Stripe are designed for both individuals as well as business users. 
PayPal is one of the commonly used payment gateways among businesses. It benefits them by offering a wide range of solutions to make their day-to-day transactions easier. PayPal offers portals for both online and direct transactions, credit and finance options, and business management solutions. But these helpful payment gateways place a fee for all its transactions and sometimes the business owners need to pay a high amount of money out of their pocket.
For how to become a payment processor, first, research the industry and regulations. Choose a suitable business structure, acquire necessary licenses, and set up an efficient system for processing payments. Build robust security measures and add whole services to cater to diverse clients. Promote your services through marketing and networking strategies. Continuously adapt and improve your processes for long-term success.
To avoid this, you should know how much you should charge your customers or other parties. To make this task easy for you, PeachPay offers a PayPal fee calculator and a Stripe fee calculator.
How does PeachPay's PayPal Fee calculator work?
PeachPay PayPal fee calculator calculates accurate PayPal processing fee. You need to enter the US dollar amount of your invoice, and the PayPal fee calculator will provide you with the PayPal processing fee. 
The processing fee is calculated based on the amount entered by you and the region of sender and receiver. This calculator calculates according to the PayPal charges applicable to the US that is 3.49 to $0.49 for each transaction.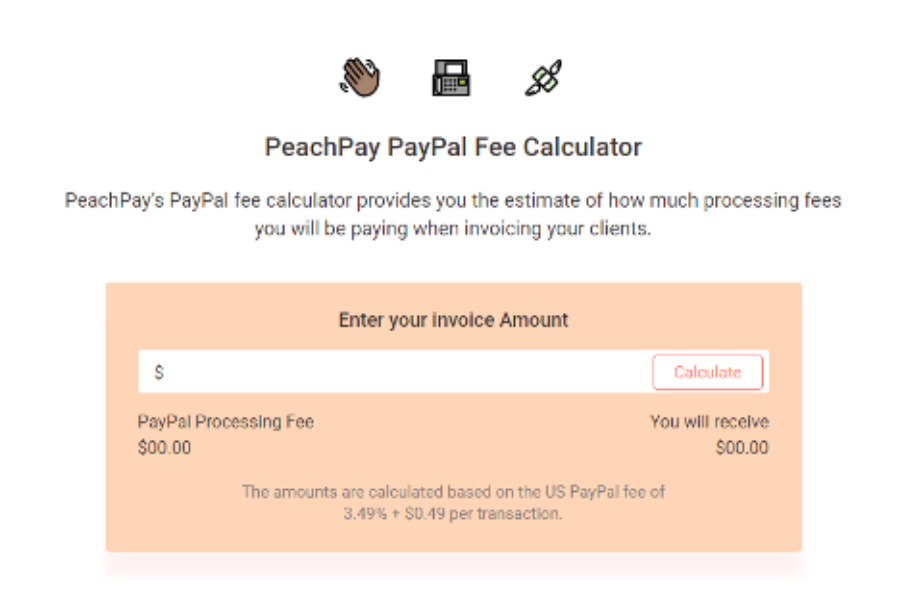 https://peachpay.me/paypal-fee-calculator
How does PeachPay's Stripe Fee calculator work?
PeachPay's Stripe fee calculator works similar to the PayPal Fee calculator. Just enter the invoice amount in US dollars and the Stripe fee calculator calculates the processing fee based on the amount entered in the country of the sender and receiver. It accurately calculates the processing fee according to the stripe charges applicable to the US.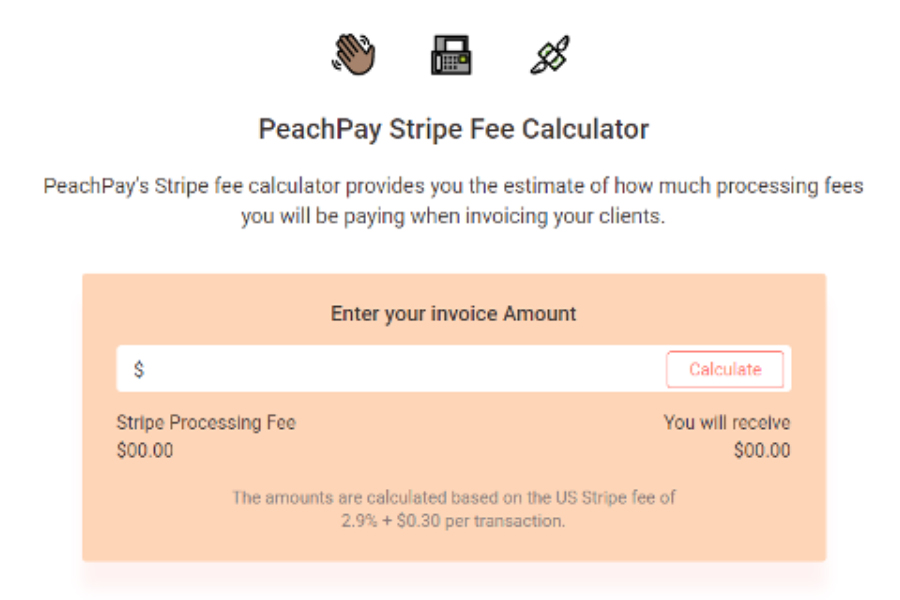 https://peachpay.me/stripe-fee-calculator
Advantages of using PeachPay Fee calculators
– PeachPay's PayPal fee calculator and Stripe fee calculator accurately calculate the processing fee in no time. 
– PeachPay charges no extra fee to its users; you just need to pay a stripe processing fee or PayPal processing fee when invoicing your clients. 
– Using PeachPay, you not only calculate the processing fee but also pass the processing fee to your clients or split the processing fee with your clients. 
– PeachPay is an efficient tool for all online buyers and sellers. 
– PeachPay has more than 20,000 online service providers who are saving their processing fees.  
– It is a comprehensive tool for all online service providers where they can send their invoices, receive payments, sell their digital products, and also schedule free or paid appointments with their clients.
– You can send your invoice for free with PeachPay and try and experience all its business-friendly features for free.